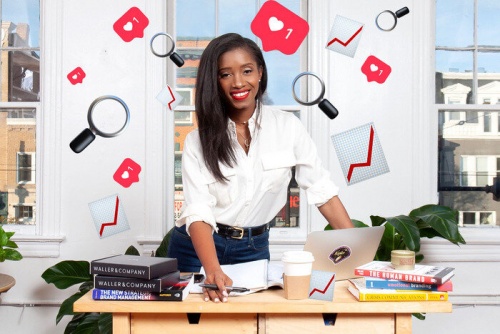 Based on the Dr. Waller's lecture
Do you know that an average employee has ten times the amount of followers on social media than the company where he works? Today corporations have turned to personal branding to build consumer trust. Dr. Talaya Waller, a personal branding expert, speaks about the power that is unleashed when corporations begin to develop personal brands. Dr. Waller is the founder and CEO of Waller & Company; she works with executives, entrepreneurs, and public figures.
Dr. Waller says that Internet-technology has caused a monumental shift in branding. When people speak about their life in a company, they get 561% more feedback than their companies, when they speak for themselves. The Internet has allowed everyone to be accessible by anybody from anywhere in the world, so one person can have more influence than a large organization. It is not a possibility, this is our reality. Talaya Waller thinks that the future of branding is personal. 
Brand is the emotional value; branding involves building relationships with the consumer. Talaya Waller gives the example of a lemonade stand. You are selling lemonade in the neighborhood, the going rate is 25 cents, but you decide to charge one dollar for your lemonade, because you are the only person who has access to a car and you can get your ingredients quicker. If your competitors get cars too, you have to think of another way to charge more. You do an assessment of your neighborhood, and you realize that most of your customers are housewives. It means you can create a new brand strategy that aligns with their values. Talaya Waller emphasizes that in this example you are selling not only lemonade, but also a lifestyle.
People can relate and connect. The best relationships are not about what you can do for customers but how you make them feel. A contemporary consumer is smart, thrifty flooded with options and overloaded with information to make decisions on their own. In the 1970s a common person saw about 500 brand messages a day and today that number is 5000. If people see advertising of diet coke, it does not make them want to buy the diet coke. People want to upgrade and not pay attention to advertising.
"People have outgrown the old tactics", – says Dr. Waller. Today, people have moved on to brands that can provide an experience and ultimately improve their lives. Earlier companies promoted their product through billboards and magazines and people could not refute what the companies named their brand. Now people can share opinions and feedbacks with others in real time online on social media and other platforms.
92% of people trust a recommendation from a person about a company and have lost trust in corporate branding. Companies are looking for influencers to market their products. Influencers are people like each of us who have a large number of followers. Branding has shifted from humanizing objects and abstracts to influencing people with other people. This formula has been around for a very long time. People did and will do business with people they know, like and trust.
Listen to Talaya Waller you can there.