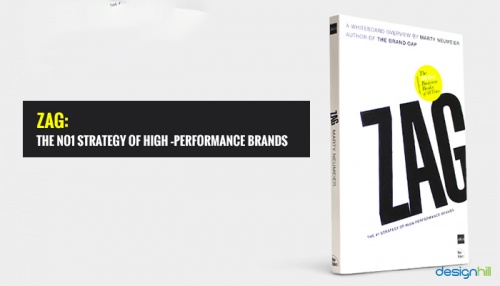 The Marty Neumeier's book
Marty Neumeier is a designer, business consultant, director of development for the Liquid Agency that updates and launches new brands. In 1984 Marty Neumeier moved to Silicon Valley to work with companies such as Apple, Microsoft, Adobe and others.
In 2003, in his first book, Rule #1: Break the rules, Marty Neumeier writes that a brand is reputation that you can influence, but you cannot control. In the book ZAG: The #1 Strategy of High-Performance Brands he shows how to make successfully branding, how to attract attention and gain the trust of customers to make more and more people buy your products or services.
Every day the number of different brands increases. These are the customers' decision which companies will prosper, and which will not. We live in the century where information technology rules, and customers are overwhelmed with advertising; and companies are trying to offer something better or more interesting for their customers.  It is necessary to offer something new to be successful and to be able to compete with other companies. Many products are similar to each other, the twin companies force consumers to search for at least some personality, which allows finding the best companies, and differentiating them from all the others. Marty Neumeier thinks: if a company wants to thrive in the conditions of extreme market redundancy, it should "do a zag when everyone does a zig." It should move in the opposite direction, oppose itself to others.
Any brand is created on the basis of people's experience and impressions. The idea of ​​the brand is to create impressions that please customers, because customers determine the importance and value of a brand. Modern consumers do not want to be sold goods; they want to make their purchasing decisions themselves. So they don't have to know about all the advantages of the goods, the consumers want to find the answers to the question of what will change in their lives after purchasing the goods.
The book is a practical guide, which describes in detail the basic principles of successful branding. The author suggests a step-by-step plan for the formation and development of the brand, Marty Neumeier offers the reader a lot of non-trivial ideas that are presented in the form of simple steps to put into practice. A simple language, pivot tables, interesting comparisons make Marty Neumeyer's book one of the best branding guides. The book is in the top-100 best business books of all time according to version 8-800-CEO-READ; it is recommended to be read by marketing specialists, brand managers and advertisers.
You can find the Marty Neumeier's book here.