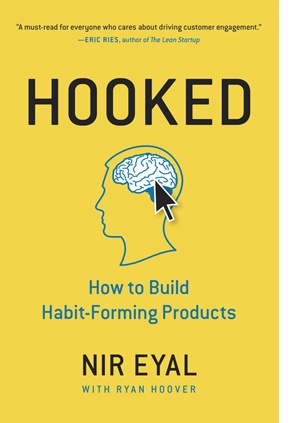 Nir Eyal is an Israeli-American author, educator, and entrepreneur. He is a frequent contributing writer for Forbes, TechCrunch, and Psychology Today – writing about the intersection of psychology, technology, and business. Nir Eyal's bestselling book "Hooked: How to Build Habit-Forming Products" is about the reasons why some products cause addiction. This bestseller tells us about companies and their products, which get into the habit. The edition became number one in the section "Product Management" and has more than 900 positive reviews on Amazon.
 
Eyal says that everyone is hooked, because we check our phones almost 150 times in a day. We cannot live without our smartphones, Google and different social networks.  He describes the concept of creating habit-forming products. The main idea of the book is that without understanding the psychology and incentives of consumers it is impossible to create a successful product.
 
The Hook Model is a four-step process, which allows controlling the consumer behavior. Users constantly return to the product without aggressive advertising, expensive marketing campaigns, reminders and other actions on the part of the manufacturer.
 
This book will be interesting to PR students, and Marketing and Advertising specialists.
Source: vc.ru